Controlled amino acid diet 'could help cancer treatment'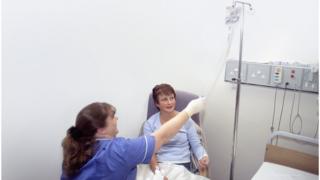 A controlled diet that restricts certain amino acids could be used as an additional treatment for some cancer patients, according to Cancer Research UK. Researchers found that removing two non-essential amino acids, serine and glycine, from the diet of mice slowed the development of tumours.The diet could also make traditional cancer treatments more effective. But the report's authors warn against following a do-it-yourself diet.The report by the Cancer Research UK Beatson Institute and the University of Glasgow is published in Nature. The researchers found that the development of lymphoma and intestinal cancer slowed in mice fed a diet without serine and glycine. The restricted diet also made some cancer cells more susceptible to chemicals known as reactive oxygen species. These same chemicals are boosted by chemotherapy and radiotherapy suggesting it could make the treatments more effective at killing cancer cells.

full story
Related news
Warren Buffett's Junk-Food Diet Has Gotten Him to 87: Should You Follow It?
TheStreet.com - August 30, 2017


But Buffett's diet doesn't make him cheap. In fact, it's cost him quite a bit of money in the past. Buffett bought See's Candies for $25 million in 1972 not just because he saw potential in it, but because he loved its nut fudge and peanut brittle. Buffett bought ...
Nutrition, Wellness team recognized
Journal Advocate - March 11, 2017


Sterling Regional MedCenter is recognizing its Wellness and Nutrition teams the week of March 6-11. Nutrition and Wellness Services offer a variety of programs and services.The Nutrition department provides services to in-patients at the hospital, including screenings ...
High fat diet displays health benefits in mice
Johns Hopkins News-Letter,
Maryland
- September 21, 2017
The Bacon Diet. Believe it or not, there is an actual diet colloquially known as the Bacon Diet, and it may just stave off illness, help you lose weight, help you become stronger, give you more energy and help you live longer.This eating plan does not consist of ...
High-fat diet leads to same intestinal inflammation as a virus
UCLA Newsroom - June 21, 2017


A new study by scientists at UCLA found that when mice eat a high-fat diet, the cells in their small intestines respond the same way they do to a viral infection, turning up production of certain immune molecules and causing inflammation throughout the body. The ...